S1 can be installed upside down
The JmGO S1 HD 300吋 Laser TV S1 uses a reflective ultra-short-focus projection technique with a screen projection ratio of 0:25:1. It takes only 0.3 meters to project a 108-inch screen. When the distance is 1 meter, the projected image is up to 200 inches. Standing in front of a huge projection screen, it will definitely be deeply shocked by its grandeur.
With a lumens of up to 3000 ANSI, the colors are bright and bright even when viewed in a bright environment. In addition, you can adjust to the smart eye protection mode to adjust to the most suitable viewing brightness.
From high-pressure mercury lamps, halogen lamps, xenon lamps, to LEDs, hybrid lasers… The history of projection is the evolutionary history of light sources.
S1 laser light source projection, let the smart cinema officially enter the laser era.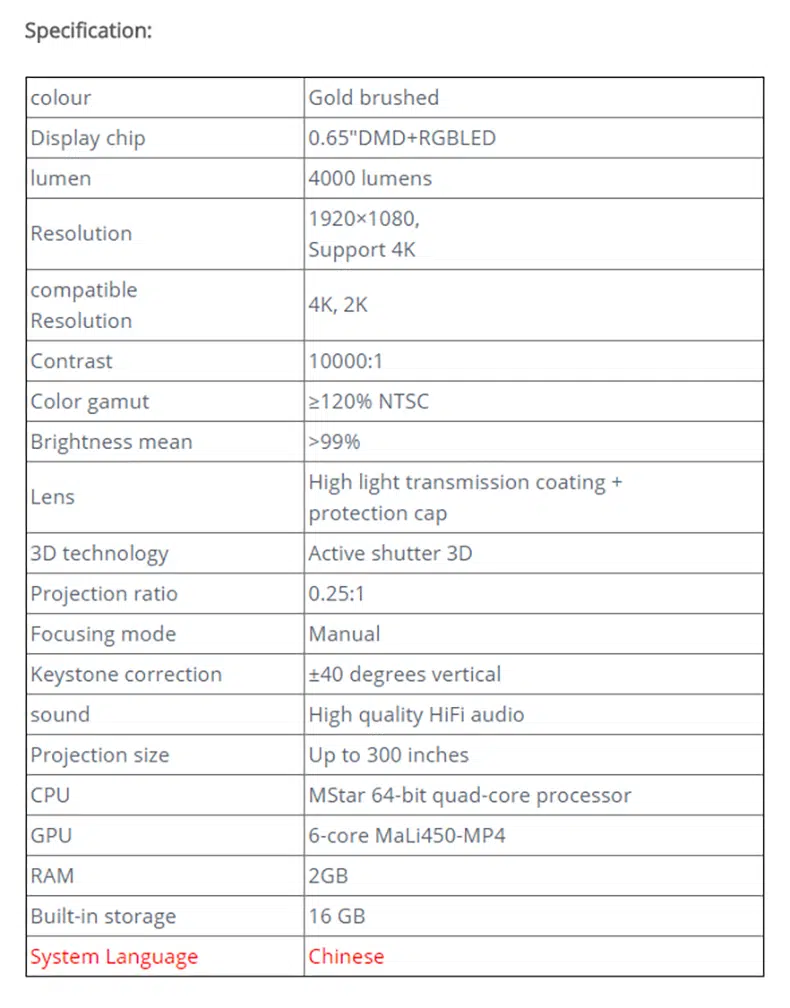 Brand: JmGo (Nuts)
Model:S1
Color: Silver sandblasting
Material/technology: Magnesium Aluminum Alloy/ Carbon Fiber/Engineering Plastics
Type: Commercial and residential
Projection screen size: 50-300 inches
Recommended screen size: 90-120 inches
National standard brightness (ANSI lumen): 3000 ANSI
Standard resolution: 1920X1080DPI
Compatible with the maximum resolution: 4K
Projection light source: laser
Whether to support 2D to 3D: No
Operating system: ANDROID5.0 above
Lamp life: more than 30,000 hours
System Configuration
Processor: 64-bit processor
Number of cores: quad-core
System Memory: 2GB DDR3
Display chip: DMD
Storage capacity: 16GB EMMC FLASH
Extended support U disk, removable hard disk
Projection specifications
Projection lens: high transmittance coating lens
Brightness uniformity: >98%
Digital Zoom: Support
Projection distance: 0.3-1.7M
Screen aspect ratio: 16:9
Projection ratio: 0.25:1
Color: 1.07 billion colors
Projection: Forward
Keystone Correction: Vertical
Correction range: ± 40 degrees
Adjustment function: automatic
Display scanning frequency: 60HZ
Video format: Support H.264, VP9, ??H.265 and other 4K format hard decoding, H.265, 4K2K@60HZ10BIT ultra high-definition decoding
Input terminals: HDMI2.0, HDMI1.4, USB3.0X2, USB2.0, RJ-45, MINI USB, AVIN, TVTUNER
Output terminals: AUDIO OUT, S/PDIFOUT
Dustproof: Yes
connection
USB interface :USB3.0X2, USB2.0
HDMI interface: HDMI2.0, HDMI1.4
Network Interface: RJ-45 Ethernet Interface
Audio Interface: AUDIOOUT, S/PDIF
Other interfaces: MINI USB, AVIN, TV TUNER
Wireless projection function: support
Bluetooth : Support
U disk live broadcast: Support
U disk live support video format: support for AVI.MPGVDAT.V0B|DIV.M0V.MKV.RM.RMVBMP4MJPEG
.TS.TRPWMV.ASF.FLV
Electrical Specifications
Power Supply: AC110-24OV
Total power consumption (W): <450W
Audio Power Consumption (W): Treble 10WX2, Bass 20WX2
Noise (DB): <30DB
Speaker: 50W
Appearance parameters
Net weight (KG): 13
Gross weight (KG): 15
Size (MM): 680MMX370MMX140MM
With packaging size (MM): 820MMX470MMX280MM